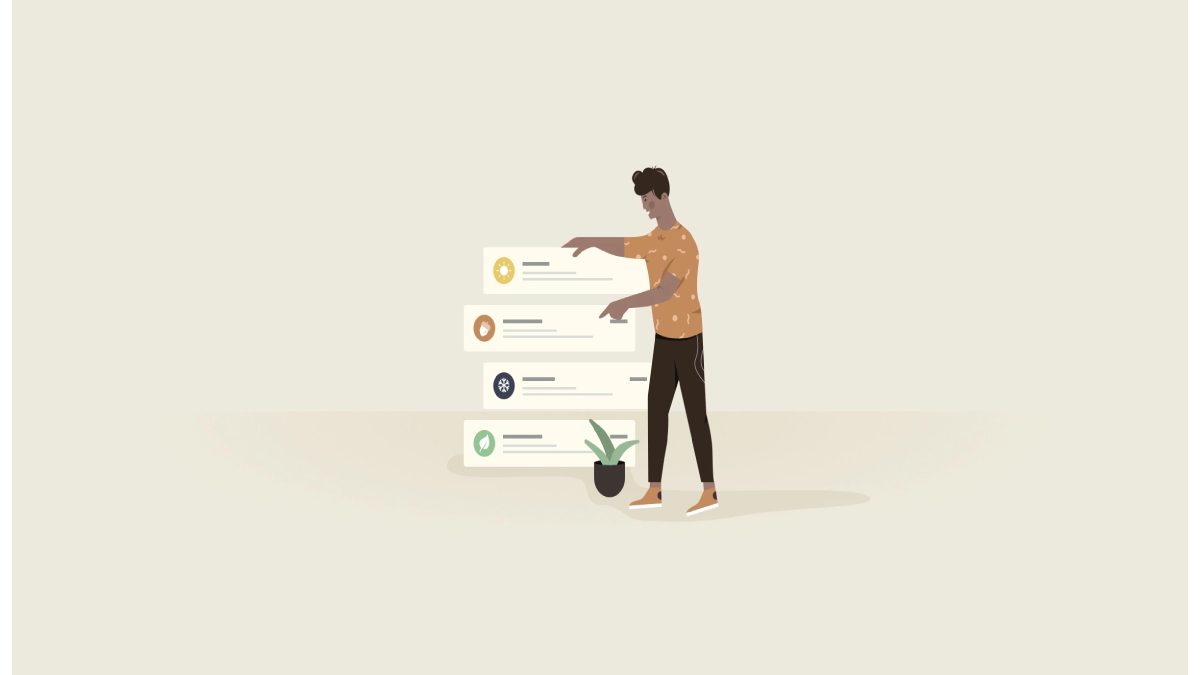 Five Holiday Email Design Ideas For Your E-commerce Business – In 2020, the total holiday season spending was around $188.2 billion, and it is expected to grow even more this year. For some e-commerce websites, holiday season sales make up around a fifth of their yearly revenue. You, too, can get a portion of the multibillion-dollar feast by using unique and stand-out email designs for holiday marketing campaigns. Here is a list of 5 email designs that your e-commerce business can use to make the most of the holiday season:
1. Sales countdown timer
You can use a sales countdown timer to notify your subscribers about the upcoming sale events. Similarly, the countdown timer can be used to inform your customer about the end of the sale. In both cases, the emails create a sense of urgency and will allow you to capitalize on your subscriber's FOMO.
reMarkable uses a countdown timer email to notify their customer about the end of their Black Friday sale. They have used a duotone email template that conforms to the Black Friday color palette. Even the display picture of their product is in black and white. Finally, they have used a brightly colored CTA button to capture the reader's attention.
2. A Holiday color palette
You can up click-through rates of your marketing emails by using the color theory in your template. Color theory suggests that your readers will connect more with the content of your emails if they are in the appropriate holiday color. For example, red, green, and white are the predominant colors of Christmas. Each of these colors represents an important aspect of the holiday. Red represents Santa, white stands for the snow, and green characterizes the Christmas tree. This is the reason why most Christmas emails look very similar.
Wonderbly uses all the dominant colors in their email template. They have included a Santa Claus reference in the subject line to truly embrace the spirit of Christmas. To top it off, Wonderbly uses a curiosity-inducing CTA to increase their click-through rates.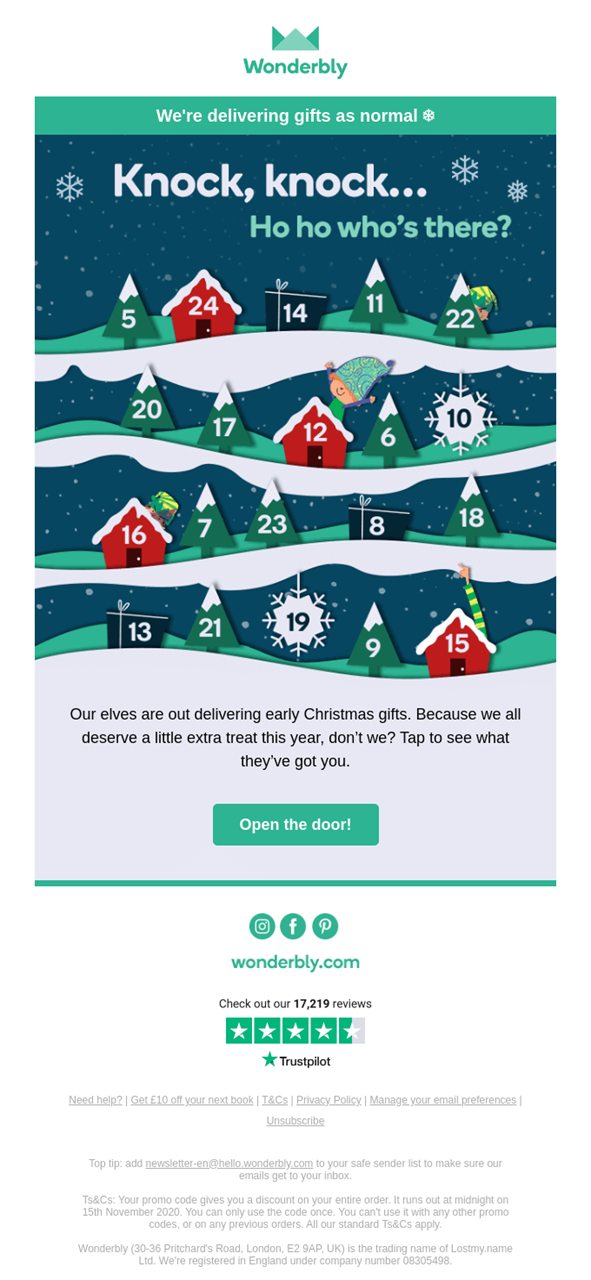 Similarly, Thanksgiving has a color palette that consists of red, yellow, brown, and green. The colors represent autumn and turkey. Sonder uses most of the above-mentioned colors in their thanksgiving marketing email template.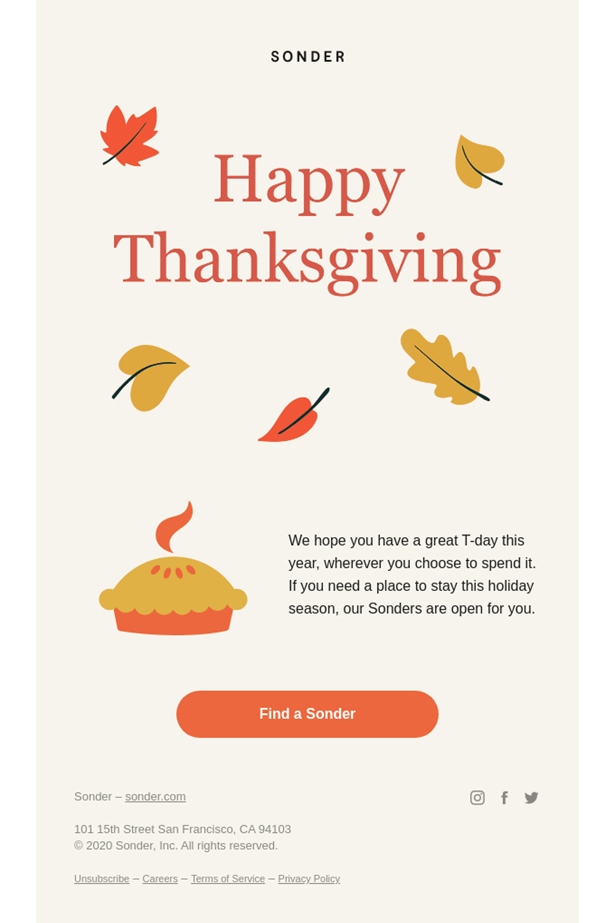 Black Friday's color scheme includes black and white. PDL cosmetics use regular colors along with red borders to highlight the body of their email. They are offering VIP early access that makes the reader feel like they are part of an exclusive club. PDL cosmetics also offer discounts and perks in their Black Friday marketing email.

3. Interactive email design
During the holiday season, your subscriber's inbox is filled with similar-looking emails offering discounts and sales. The competition to retain the attention of the reader becomes cutthroat. Interactive email templates allow you to stand out in the inboxes. Engaging and responsive email HTML template makes the customers spend more time on your email. Hence it often leads to a higher conversion rate. However, it can be very challenging and expensive to create an interactive email template.
Email Monks, an email marketing agency, now known as Email Uplers, managed to create a highly interactive email for their holiday season campaign. They managed to code an entire game in their email. You can use the arrow keys in the template to navigate and reach the final destination. The gamification of the email engages the reader and rewards them when they complete the games.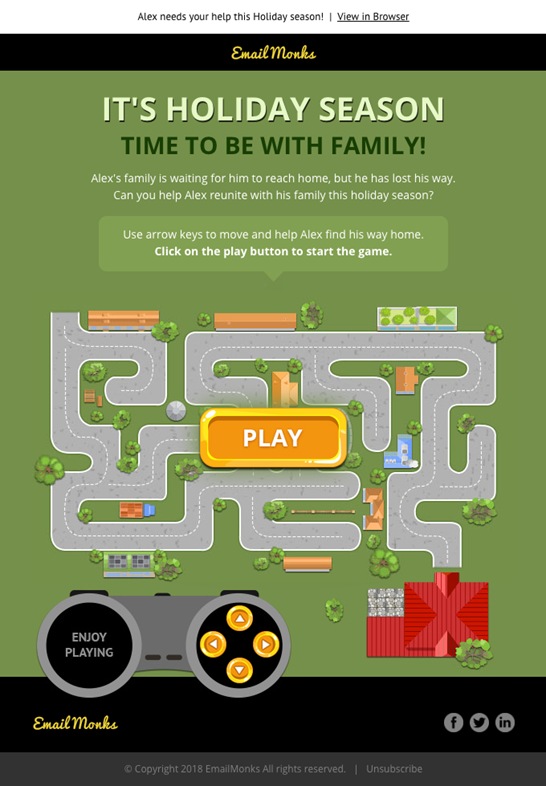 While this is an excellent example of an interactive email, you should not be discouraged by its complexity. You can achieve similar results by creating a simple email template with a few interactive elements.
4. Keeping it simple with warm wishes
Every marketing email need not be a promotional email. Thanksgiving, Christmas, and New Year – these occasions make for the best time to connect with your recipients and send warm wishes for the holidays. Thank your customers for their continued support and cherish their involvement with your company. Such emails humanize your brand and build the loyalty of your customers. Keep the emails simple, ensuring that you are using softer colors and rounded-out edges to make the emails look aesthetically pleasing.
Holden uses a simple design to thank their customers for their continued support throughout the year. Holden also uses warm colors in the design of their email to make it look more pleasing. The imagery used suggests that they are raising a toast to celebrate the reader's loyalty. Cheers!

5. Promote 'End of Season' sale
Towards the end of the holiday season, you can create an end-of-season email marketing campaign to bring in a few more bucks. The basics for creating an end-of-season email marketing campaign are fairly simple. The email templates should offer extensive discounts coupled with an email copy that creates a sense of urgency. You can also throw in an email countdown timer to increase the effectiveness.
Rugs.com offers massive discounts on their entire line-up to attract more customers. They are also offering free shipping as an added perk. Apart from that, they have included a few snippets of their products coupled with CTA buttons that will lead you directly to the product page.

Conclusion
During this season, people are often busy spending time with their family; they will not constantly be browsing through their inboxes. Therefore, you need to create quality emails to engage their attention instead of focusing on the quantity, and of course, start early.
Author: Kevin George is Head of Marketing at Email Uplers, one of the fastest growing PSD to Email coding companies, and specializes in crafting professional email templates, custom Mailchimp email templates design and coding in addition to providing email automation, campaign management, and data integration & migration services. He loves gadgets, bikes, jazz, and eats and breathes email marketing. He enjoys sharing his insights and thoughts on email marketing best practices on his blog.
Related posts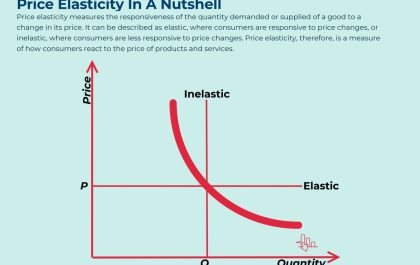 The Power of Price Elasticity in 2023: Things to Know
Every given comprehensive pricing strategy is rooted in price elasticity. In this case, it is crucial to get in-depth insights…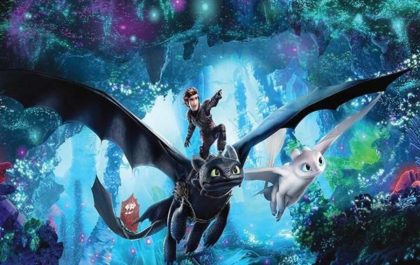 How To Train Your Dragon 3 Full Movie In Hindi Watch Online
How to Train Your Dragon 3 Full Movie in Hindi 300MB The Hidden World in Hindi Dubbed. Here you can…