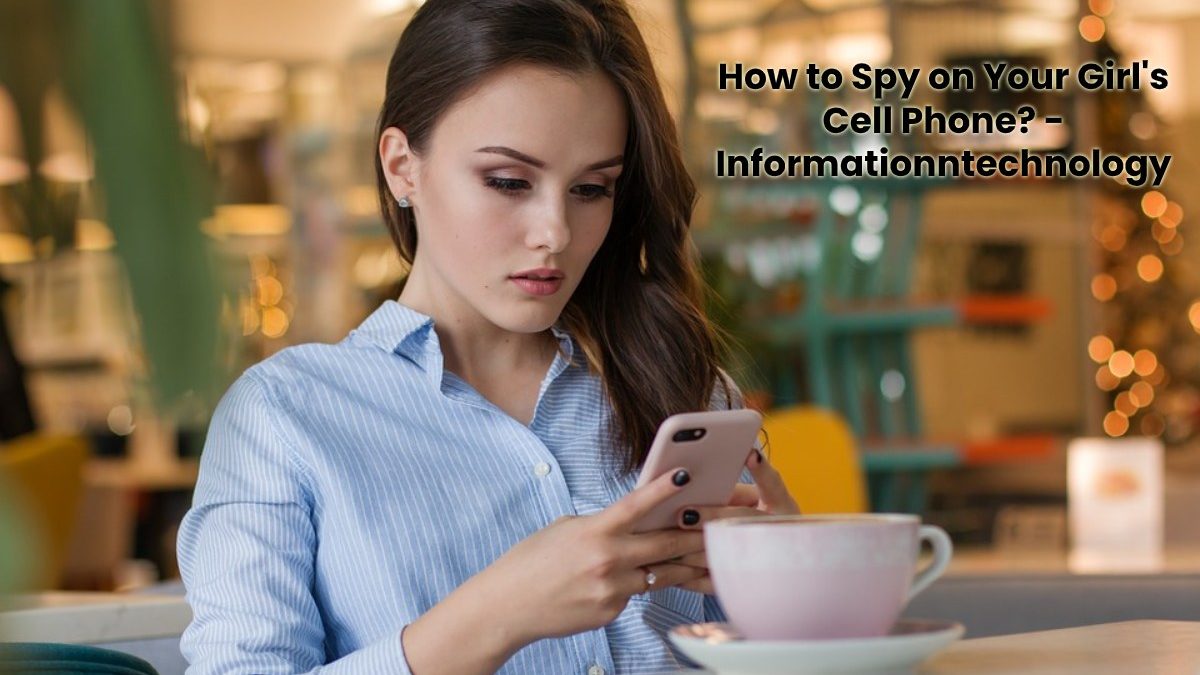 Spy on Your Girl's Cell Phone – Spying on a target device is easy as the technology has advanced and new applications come into surface for the sake of your ease. Now you can easily get to know about all the activities of the target phone from a safe distance without even remaining close to the device in any way.
In case you are in seek of a good and trusted solution then you are on the right site. Here we are going away to let you know which spy app can be used to keep an eye on the target phone and all its activities easily, so just read this article till the finish to find out what you need to know about this application.
Phone tracking or monitoring programs are not just for spying on someone. These kinds of services come in handy when you lose your phone. Many people have experienced the loss of their gadgets at least once in their lives. And you don't have to lose your phone in the street only. You can drop your phone in your own apartment and forget where it is. The best thing you can do is to call your gadget. But how to do it if you do not have a phone? With a special free service. Find out more details here.
Spyine, The Best Cell Phone Monitoring Device
Whenever someone will talk about spying devices you will not find anything better than Spyine. Maybe you would probably have heard about it before but if not then just check here and get to know so much more about it. Spyine is one of the finest application that can be used to keep an eye on the target phone and all of its activities.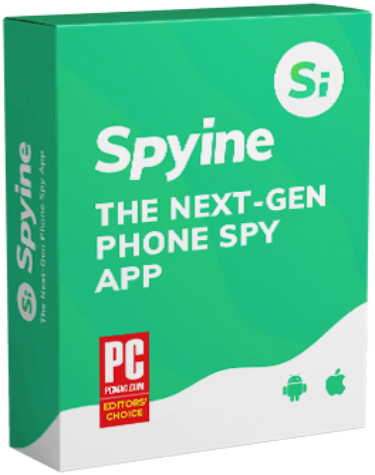 You can use this user-friendly application for both android as well as for iOS devices. The results for both kinds of operating systems are equally well. In case you need to monitor the iOS device then just add iCloud account details of the spied device and your work is done.
If you need to spy on an android phone or hack your girlfriend's phone then just install the application in the target phone and allow it to run in the background. The application doesn't suck the battery out of the target phone as it is really small in size so we can say that you are safe in using this amazing app.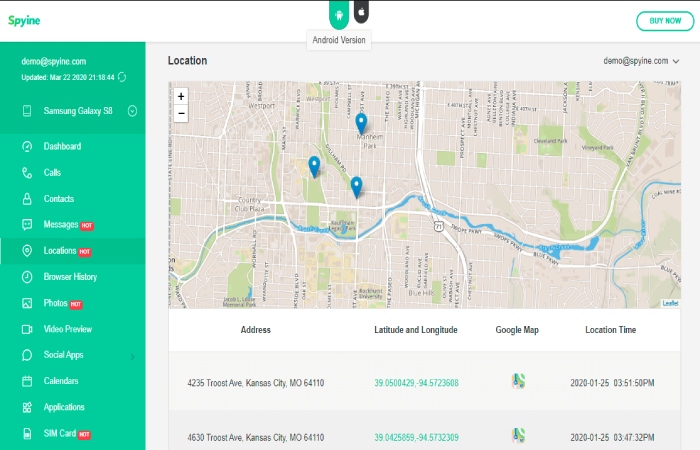 You can track(follow) the live location of the spied phone by following the device on a map where you are supposed(thought) to mark a few boundaries. Here now when the device will cross those marked places you will receive an alert and will get to know the accurate location of the phone.
This feature is called geo fence. It also lets you get to know about the past locations of the device as well. There is nothing that the app doesn't help you with as everything is clearly evident when it comes to Spyine.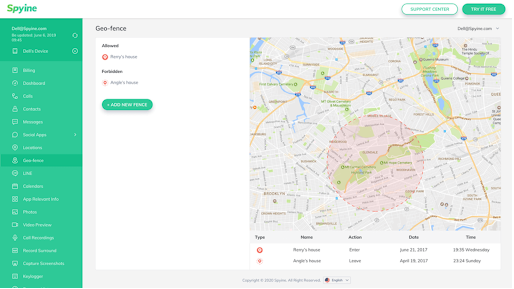 The app works remotely so there is no need to touch the target phone in any way. Every task will be done via remote processing and there is no need to touch the target phone or remain close to it as this is one of the biggest perks that can be attributed with this amazing app.
Most of these spy apps ask you to root and jailbreak the phone first in order to sue the app but when it comes to Spyine there is no need to do any of this as the app works without executing these features.
Both of these features need a lot of time, energy and technical knowledge to apply first in order to use the app and not many people are capable enough to make the app work like that, so by using Spyine you can save yourself from a lot of trouble and complexity.
If you want to use this app then there is no need to install a certain browser in order to run the app. Spyine works without any hard and fast rules so you can easily use it without having a particular kind in hand. All browsers work fine with this app.
Spyine is really easy to use for people of all ages and backgrounds. There is no requirement to have any kind of knowledge to use the app as it works without asking you to do any complex commands in any way. The app is really good in performance and offers you multiple subscription plans.
By visiting the official website you can pick the one that you think will help you in the best way possible as all these subscription plans are easy to use and reasonable at price. There is also a live demonstration on the official web-page so you can also check that out in order to know about the proper functioning of the app.
In case you don't want to spend your money yet and feel any doubt then go for a one month free trial of Spyine to get to know about the app and its functions in a better way. You can also make contact with the customer support team if you feel like you are stuck anywhere in using the app.
With the help out of this app you can keep track of call logs, see contact numbers along with names, see browser history, check pictures, videos, location of the device, even the passwords of social media accounts through the feature called keylogger.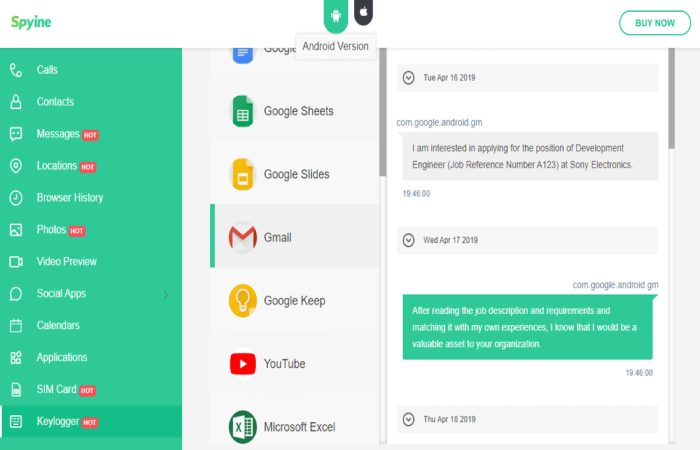 Even the deleted information from social media platforms can be recovered easily including Facebook, Instagram, Snapchat, Skype, WhatsApp, Twitter and the rest. There is nothing in the word with which Spyine doesn't help you with.

Using Spyine to Monitor the Target Phone
Step 1: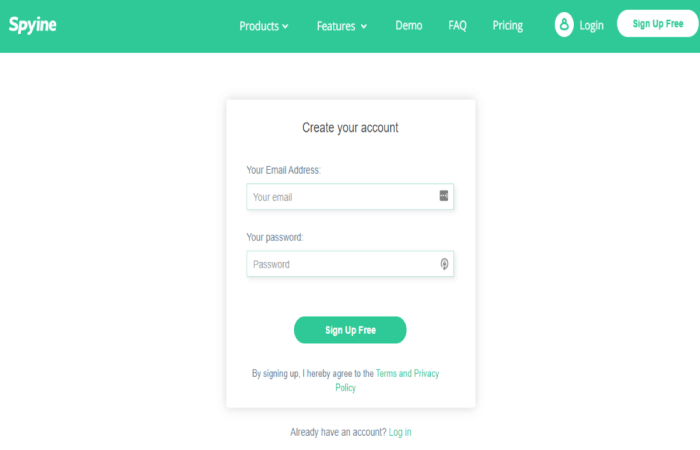 As the first step just go to the official Spyine site and sign up for an account. Give the mail(email) id that is still in your usage.
Step 2:
Just purchase a Spyine monthly subscription and pick the operating system you need to spy on. It can be android or iPhone.
Step 3:
Now just add(attach) the device's iCloud details on the screen in case you need to spy on an iOS device. In case of Android just install the app in the target device. This procedure will take some time according to the quantity(amount) of information you need to draw, so remain for a while till the app syncs.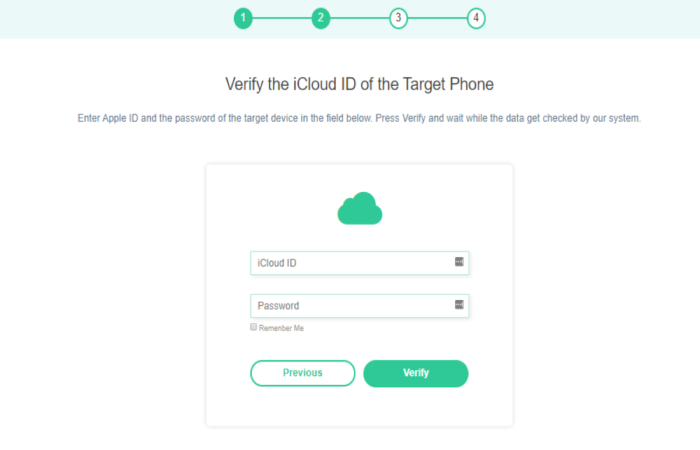 Step 4:
at the end now you will see that you have installed Spyine so you just want to log in to the application's dashboard from your PC or smartphone. The dashboard will offer you an overview of the device activity. From where you can start spying on the spied device easily or use the app for other purposes.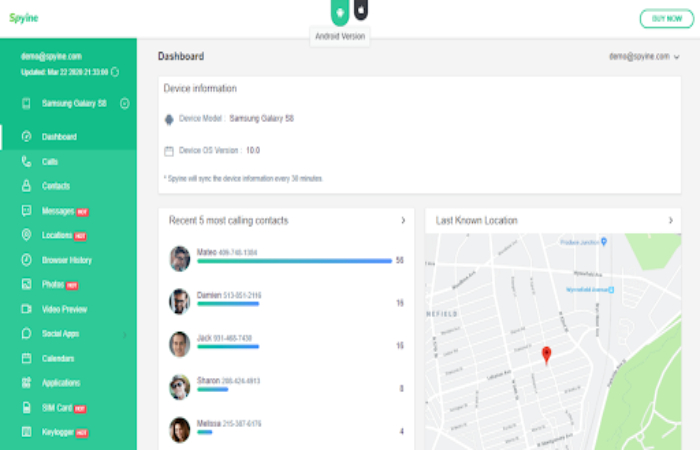 Conclusion
Just go for Spyine today without wasting more of your time in search of the right app as whatsoever we have here is best for you and you will not find anything better than this app anywhere else. The app has everything that one could ask for so just go for it.
The best thing about this app is that it is reasonable at price and you don't need to spend a huge amount in search of its subscription. All the plans are really cost-effective so just go for any of the one that you find best for you and make the most out of it. We can assure you that by using this app you would love it as it works magically.
Related posts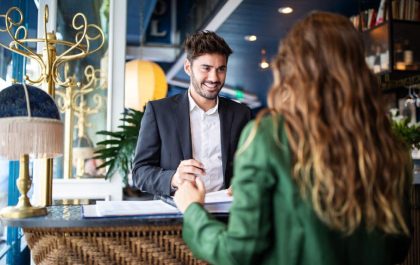 Revolutionizing Customer Service Excellence with ServiceNow Customer Service Management
Introduction: In the contemporary business landscape, customer service is a pivotal differentiator that can make or break a company's success….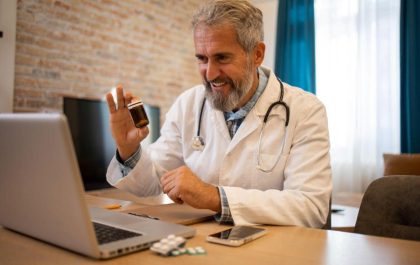 Maintaining a Strong Online Presence: A Key to Patient Reactivation
In today's digital era, having a robust online presence is crucial for any business, especially for healthcare practices. With most…