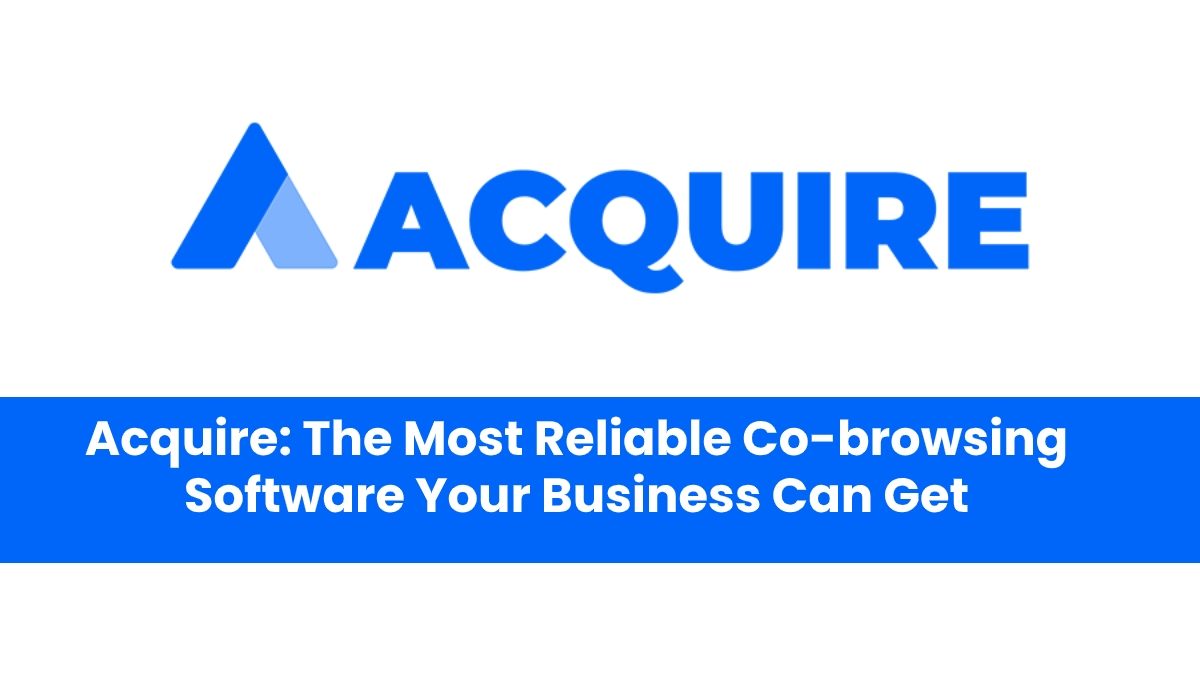 Acquire – If you are working in customer service, at least once during the past month, you would have confronted a customer who really needs hand holding to a great extent. They need to show and told how to find a f eature and use it the right way.
Well, with voice calling and screen sharing, this is one uphill task. One that definitely will not make the customer feel at ease. It is also double the effort for the customer service rep.
What if both the customer and the agent can be on the same page (literally) to solve the query. Co-browsing can help with that.
What is co-browsing?
Co-browsing is the act of browsing or scrolling a web page or a mobile app simultaneously, even though they are located in different locations and in different time zones. A co-browsing software makes it possible for both parties to view, experience, and share the web page or mobile app in the same manner.
Co-browsing has great applications in customer support, where real-time interactions with the customer are essential. It heightens customer engagement and reduces any mishaps that could happen in customer support if both the agent and the customer are not on the same page.
Is co-browsing beneficial?
This question can always be answered in the affirmative. Co-browsing is definitely beneficial. In fact, it provides several benefits that businesses cannot turn a blind eye to.
Handholding new customers
New customers need some level of handholding to get used to the product. This is critical if your product is new to the market and does not have much exposure. A co-browsing software can make it easy for users and support agents to jump on a call and have a thorough walkthrough.
Improved upselling and cross-selling
One of the under-rated benefits of co-browsing is that it exposes the user to product features that they may not otherwise find on their own. This also sets the stage for upselling and cross-selling.
Enhanced customer trust
Co-browsing can make a customer trust your business more. It makes them feel cared for and attended to on a personal level.
Maximized agent productivity
When a customer and the agent are on the same page and are able to solve a query quickly, it spares a lot of call time, mutual exchange of emails, and information that is otherwise required to resolve it.
Reduces churn
Handholding makes the customer understand how they can better use your product or service. It can remove any bottlenecks that they were facing due to which the customer could have churned.
Introducing, Acquire: An Intelligent Customer Engagement Platform
Acquire is a multi-channel customer support platform that helps businesses of all scale and size manage their customer support function. It has won several awards, including CompareCamp's Great User Experience Award and Rising Star of 2019 Award.
Its highlight features include:
Live Chat
Co-Browsing
Voice Calls
Video Chat
Profile Management
Chatbots
Analytics
As a web-based application, Acquire can be accessed via the web application or Android/iOS mobile application.
As a co-browsing software, Acquire offers three types of co-browsing options:
On-chat co-browsing: Where a co-browsing session can be initiated from the chat interface itself.
On-phone co-browsing: Where the co-browsing session can be initiated while talking to agents on the phone.
Contact-based co-browsing: Where a unique identification code allows the user to initiate the session from the Acquire dashboard.
Deep dive: Exploring Acquire's capabilities
Customer engagement is a broad term. It requires a lot of tools and processes to achieve it. Acquire offers most of the tools necessary to take care of customer engagement.
Live chat software
Acquire's live chat software enables businesses to equip their website to deliver quick and real-time responses to their visitors. It can cover your website when agents are not available to attend to customer queries.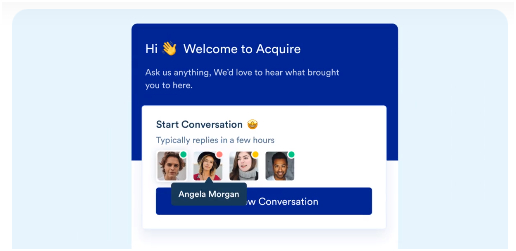 AI-powered chatbots
A high volume of customer support queries and low staff strength is a challenge that every business struggles with. Acquire's chatbots are powered by AI. They are capable of handling dynamic customer conversations with personalization that will make any customer feel at ease. They can also be used as self-service portals that enable customers to solve their queries without having to connect to an agent.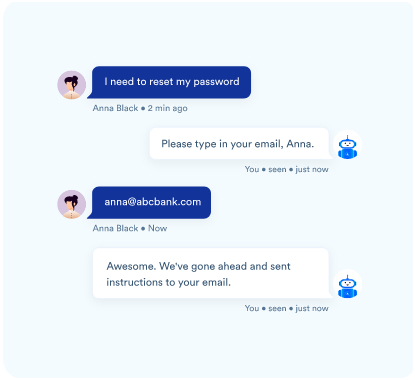 Voice & video call
With online conversations becoming the most preferred medium, businesses need a sturdy voice and video call platform that will ensure smooth communication. Acquire's voice and video call facilities give users much-needed communication and collaboration for business communication.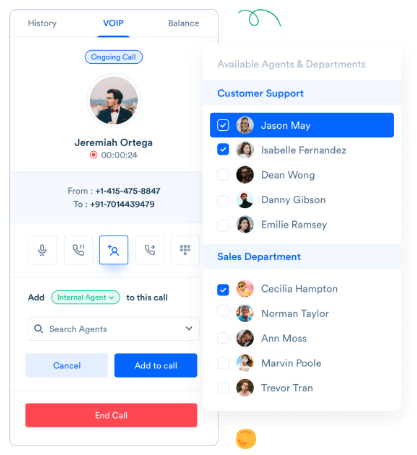 Analytics
Customer chats and conversations hold within them great insights about customer behavior and requirements. With Acquire's Analytics tool, you can zero in on common themes or patterns in customer behavior that can be used to improve customer service.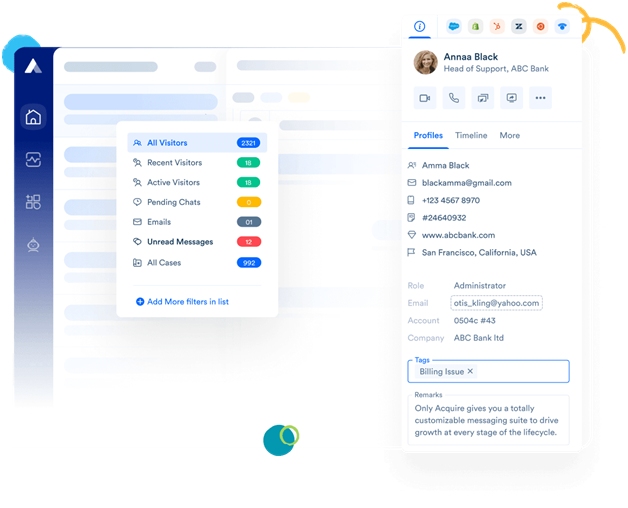 Should you opt for Acquire?
If you are a business that is keen on growth and that one wants to ramp up its customer engagement a step above the present, Acquire should be a natural choice for you. It offers great customer support and engagement tools that are easy-to-use, requires minimal training, and also offer great insights in the form of reporting and analytics.
With Acquire, you can ensure that your business ready to serve the millennial customer who is accustomed to the digital way of living.
KNOW MORE:- techhandbusin
Related posts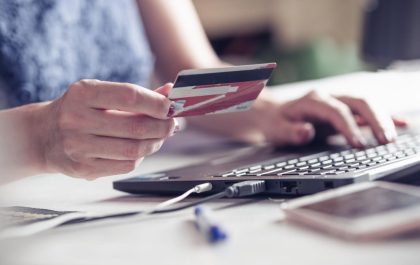 7 Things You Should Know Before Switching Your Banking to an Online Bank
Switching from a run-of-the mill bank to an online bank can offer you more than just convenience. Online banks are…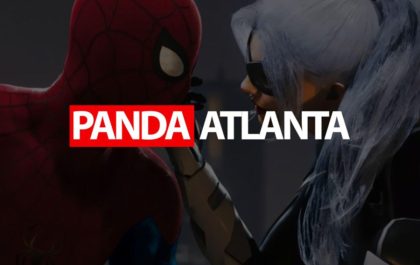 Panda Atlanta: The Ultimate Destination for Gamers in the South!
Panda Atlanta has become a hotspot for gamers in the South, with its impressive collection of video games and top-notch…